About Us
We are a family business that has been active since 1995 in the real estate industry in the south-west of the Costa Blanca. With detailed market knowledge, dedication, discretion and a comprehensive service, we advise sellers and buyers. Through our experience, we identify problems before they occur and avoid them.
As longtime state agents, we have daily contact with prospective buyers. So we can perform discreet and professional visits and prepare all sales paperwork perfect. If you entrust us the sale of your property, you have expert agents at your side.
We are proud to offer you a wide range of properties at the best prices. We stand beside you with a personal service during and after the sale of your property. Our professional team includes a financial/investment advisor and a civil engineer.
Take a look at our web page, where you will find the right property.
We wait for you in Pinar de Campoverde
The village of Pinar De Campoverde, is situated in the southern part of the Costa Blanca of Spain, close to the town of Pilar de la Horadada, in the Alicante region. It is an area of outstanding beauty, surrounded by orange & lemon groves, pine forests and is adjacent to the Rio Seco (Dried River) Nature Park.
There is a mixed community in the village of Spanish, English, Scandinavian, French and German speaking, it is ideal for families of all ages, with good Spanish state schools in the nearby town of Pilar de la Horadada, with a school bus service that runs from the village.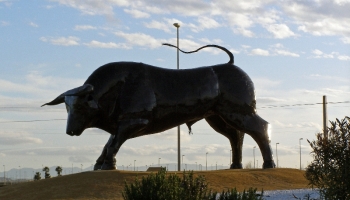 There is a selection of Bars, Restaurants, Supermarkets, Banks and two public swimming pools, as well as a small Sunday Market in the village, with a Doctor's, Dentist and Veterinarian surgery as well as a chemist.
The village is a 15 minutes drive to the beaches of Torre de la Horadada and the Salt lakes/Mud bath of Lo Pagan, San Pedro.
The village also offers a sports complex with tennis courts, football pitches, basketball courts and a swimming pool, with a restaurant and bar.
The complex is opened to the public all year round.
The new Lo Romero golf course on the outskirts of the village is now open to the public and worth a visit.
The area around the sports complex, The Rio Seco is a nature reserve in which you can walk or cycle around and take your time to admire the stunning landscape.
The village is only a, 40 minutes drive from the historic city of Murcia and 30 minutes from the old navel town of Cartagena
AIRPORTS
Pinar De Campoverde is located only 50 minutes from Alicante airport and 20 minutes from San Javier (Murcia) airport.